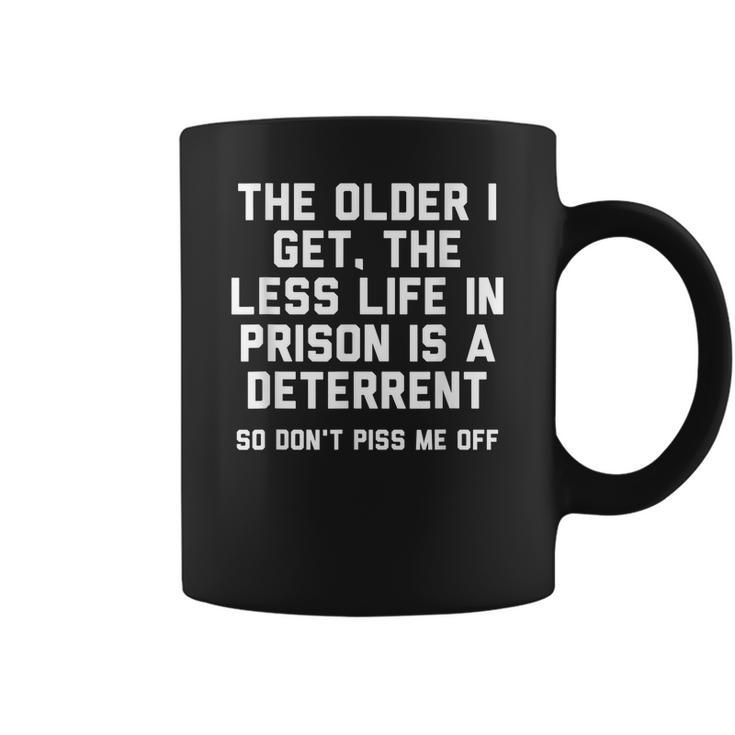 The Older I Get The Less Life In Prison Is A Deterrent Coffee Mug
In stock
US$15.96
Buy 2+ items Get 10% off
Buy 4+ items Get 15% off.

Guaranteed safe and secure checkout via
Delivery to United States
US Standard Shipping:
29th Sep - 9th Oct
Refund policy
If the product is not as described, we offer 30-day money back or a free replacement for you.
The Older I Get The Less Life In Prison Is A Deterrent Coffee Mug is a conversation starter, a gift of appreciation, and a durable companion for your favorite beverages.
Graphic Print Coffee Mug Key Features:
Made from durable, scratch-resistant stoneware ceramic.
Available in sizes 110z and 15oz.
Colors available: Black and White.
Features graphic and letter prints making it a fantastic conversation starter.
Ideal for sipping your morning coffee or enjoying an afternoon drink like wine, beer, tequila, or any other beverage.
Easy to spot among other mugs in your collection.
Funny Graphic-Printed Mug Benefits:
Built to last, ensuring long-lasting enjoyment.
Share your happiness and sense of humor.
Can be used for a variety of beverages.
Grabs people's attention and puts them in a good mood.
Makes a great gift for friends, coworkers, bosses, or family members.
Stoneware Ceramic Mug Care Instruction:
Clean in dishwasher or wash by hand with warm water and dish soap.
Note:
- There might be a slight 1-inch variance due to manual measurements.
- The actual color and dimensions of the item may slightly deviate from the visual representation due to variations in monitors and lighting effects.