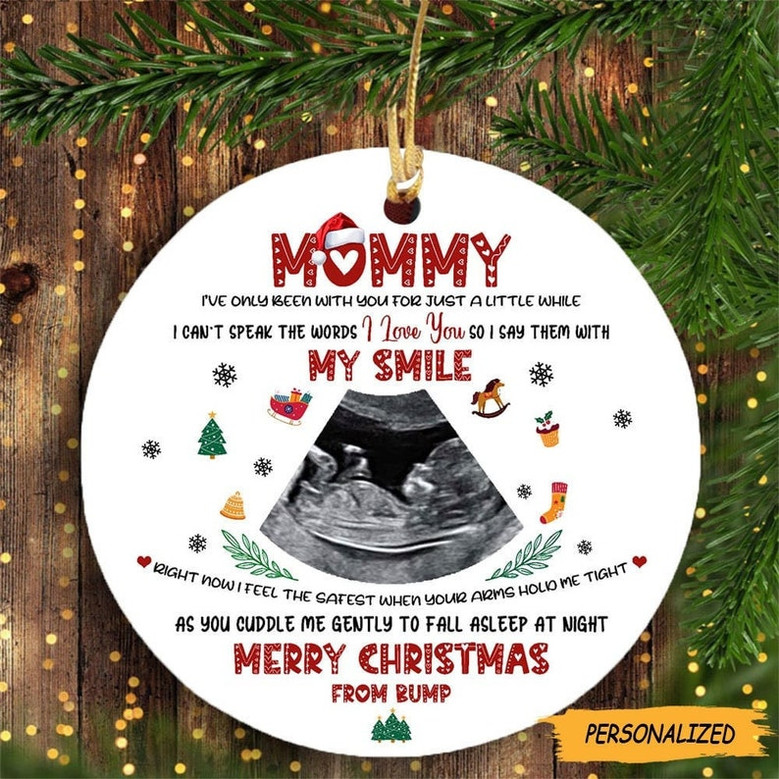 Personalized Merry Christmas From The Bump Ornament, Custom Sonogram Photo Gift for Mommy to be, New Mom Gift, Expecting Mom Gift
US$18.99
Buy 2+ items Get 10% off
Buy 4+ items Get 15% off.

Guaranteed safe and secure checkout via
Delivery to United States
US Standard Shipping:
14th Dec - 22nd Dec
Order by December 6 for timely Christmas delivery.
Refund policy
If the product is not as described, we offer 30-day money back or a free replacement for you.
Personalized Merry Christmas From The Bump Ornament, Custom Sonogram Photo Gift for Mommy to be, New Mom Gift, Expecting Mom Gift is a unique and unforgettable tree ornament that will immediately be a treasured keepsake. This ornament will bring joy to anyone. The graphic design on this ornament will be treasured by anyone who receives it. Lovely designed ornaments with personalized photos or text will be great gifts to your friends or family, as well as souvenirs for various anniversaries or festivals, such as mother's day, father's day, Christmas, thanksgiving, valentine's day, Halloween, birthday, wedding.
How To Order:
Select the design
Choose your personalization details
Fill in the required fields and carefully double-check the spelling. To ensure the best looking, please use standard English only and exclude special characters
Make sure to submit the highest resolution photo possible. Front-facing photos are always best. Screenshots and/or cropped photos aren't ideal
Reach out if you have any questions!
Selling Points:
High-quality Material: All Christmas tree ornaments are printed in the USA on high-quality 3-inch round flat ceramic with a smooth glossy glaze using a sublimation technique to remain pristine and vibrant for all holidays! Printed on one side.
Funny Home Decorations: Christmas ornaments add colour to your holiday decorations; can be hung on Christmas trees, table decor, windows, shelves, fireplaces, railing, or stores.
Thoughtful Gift Idea: Each ornament has a nice string attached, is bubble wrapped and is carefully placed in a gift box. A great holiday gifting idea for men, women, family, friends, co-workers, and neighbours.
Perfect For Many Occasions: Unique gifts for many occasions like Christmas, Thanksgiving, New Year, Weddings, Anniversaries, newlyweds, engagements, a new home or any other memorable day.
Notes:
- Please allow a 1inch difference due to manual measurement.
- The actual colour and size of the item may be slightly different from the visual image due to different monitor and light effects.